It's mid-March. This doesn't mean that I have set an update date, but I feel like I'm writing a blog once every two weeks, including checking my stock. Earlier this month, mainly TECK stocks were down.
Perhaps because US Treasury interest rates have stabilized, the market is finally beginning to show signs of recovery.
I hope this trend will continue until the end of March.
I gave up on the part that I couldn't cut the loss in February and decided to put up with it until the end of March, so I would like to decide the policy again at that time.
Stocks on a recovery trend from a fall in mid-February to mid-March
Palantir Technologies(PLTR)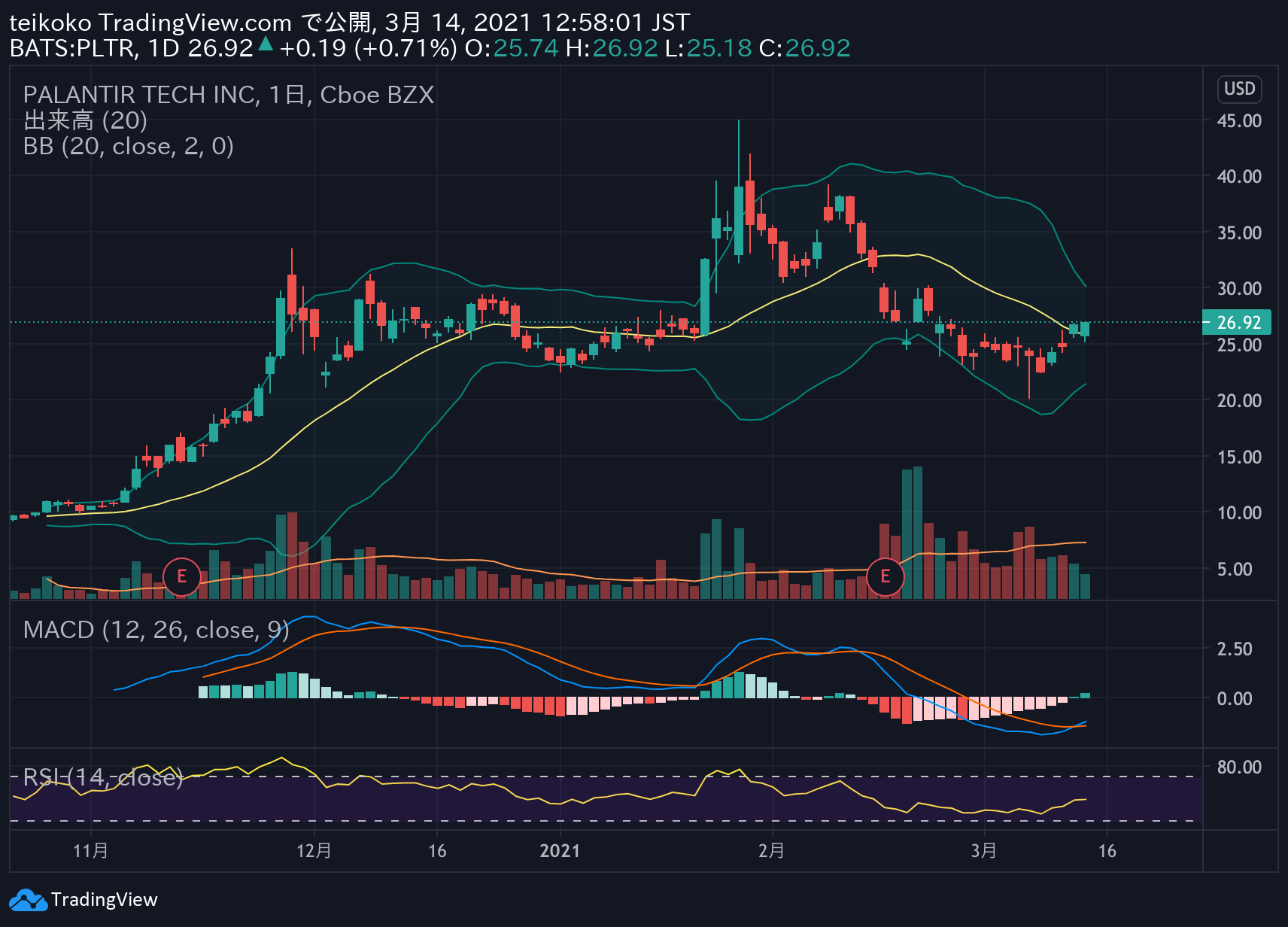 Technical: MACD has just turned into an uptrend. I hope it will continue to rise from here.
After the announcement of Q4, I think it is good that the volume is very large and finally rises. The volume here is normal.
Stock price volatility is high. It fell by about 40% in about one month from February 10th to March 8th.
Fundamental: Reference PLTR Latest Press Releases
Summary for the full year of 2020

Full-year revenue of $ 1.1 billion, up 47% year-on-year
Fourth-quarter revenue of $ 322 million, up 40% year-over-year
New Q4 contracts include Rio Tinto, PG & E, bp, US Army, US Air Force, FDA, NHS
Revenues for the first quarter of 2021 are expected to increase 45% year-on-year.
Basically, the company can be seen as growing. As for Q4, it seems that it was far below the analyst's forecast.
Expected to recover by the end of March.
Xpeng Inc ADR(XPEV)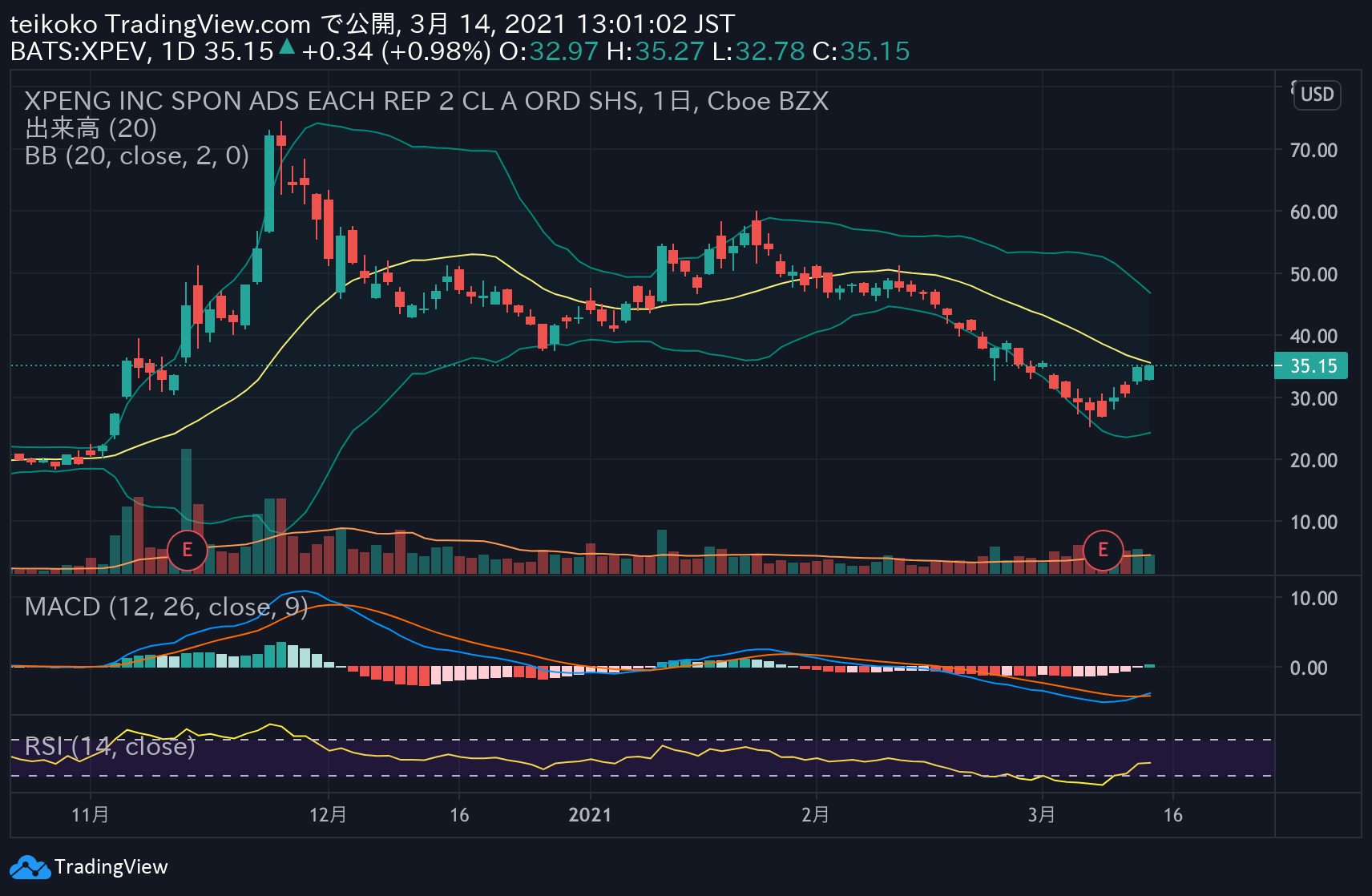 Technical: MACD has just turned into an uptrend.
I think the volume has been a little low for some time now.
The decline from January 25th to March 8th is more than 50%. This is also up and down.
Fundamental: Reference XPeng Reports Fourth Quarter and Fiscal Year 2020 Unaudited Financial Results
Summary for the full year of 2020

Vehicle shipments reached 27,041 units, an increase of 112.5% from 12,728 units in the previous year
Total revenue was RMB 5,844.3 million (US $ 895.7 million), an increase of 151.8% from RMB 2,321.2 million in the previous year
Car sales revenue was RMB 5,546.8 million (US $ 850.1 million), an increase of 155.5% from RMB 2,171.2 million in the previous year
Gross profit margin was 4.6%, but last year it was minus 24.0%
Developed a full-stack autonomous driving system. The third smart EV model equipped with LIDAR is being prepared for launch in the latter half of 2021.
Compared to TESLA and Nio all the time, it is treated as the second largest EV manufacturer in China, but it seems that we can expect more from now on.
RLX Technology Inc ADR(RLX)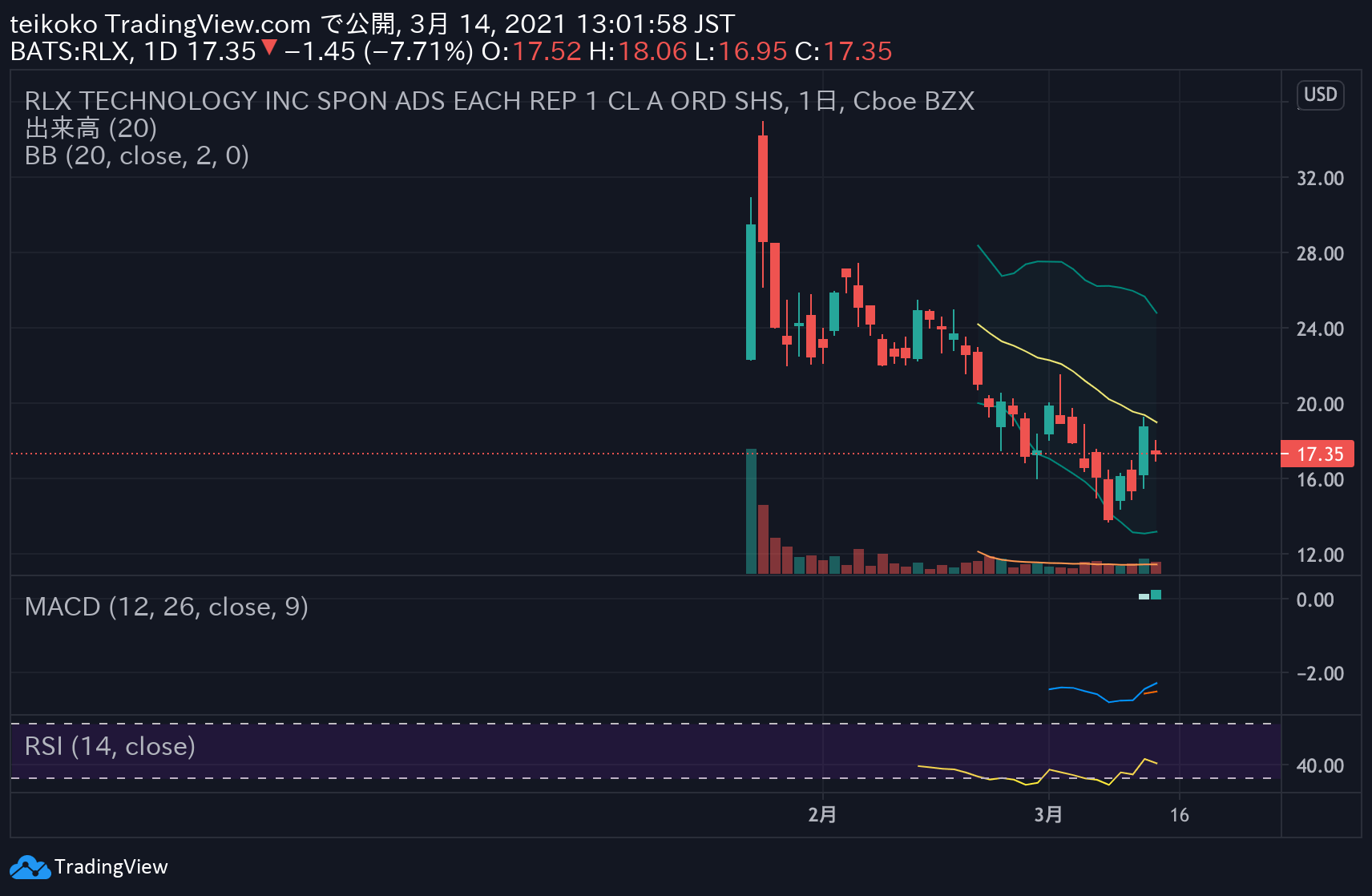 I just did an IPO with an e-cigarette maker. However, it fell a lot after being drunk by the wave of decline. There is not enough material to judge the chart yet.
This is decided by waiting until the end of March.
Advaxis (ADXS)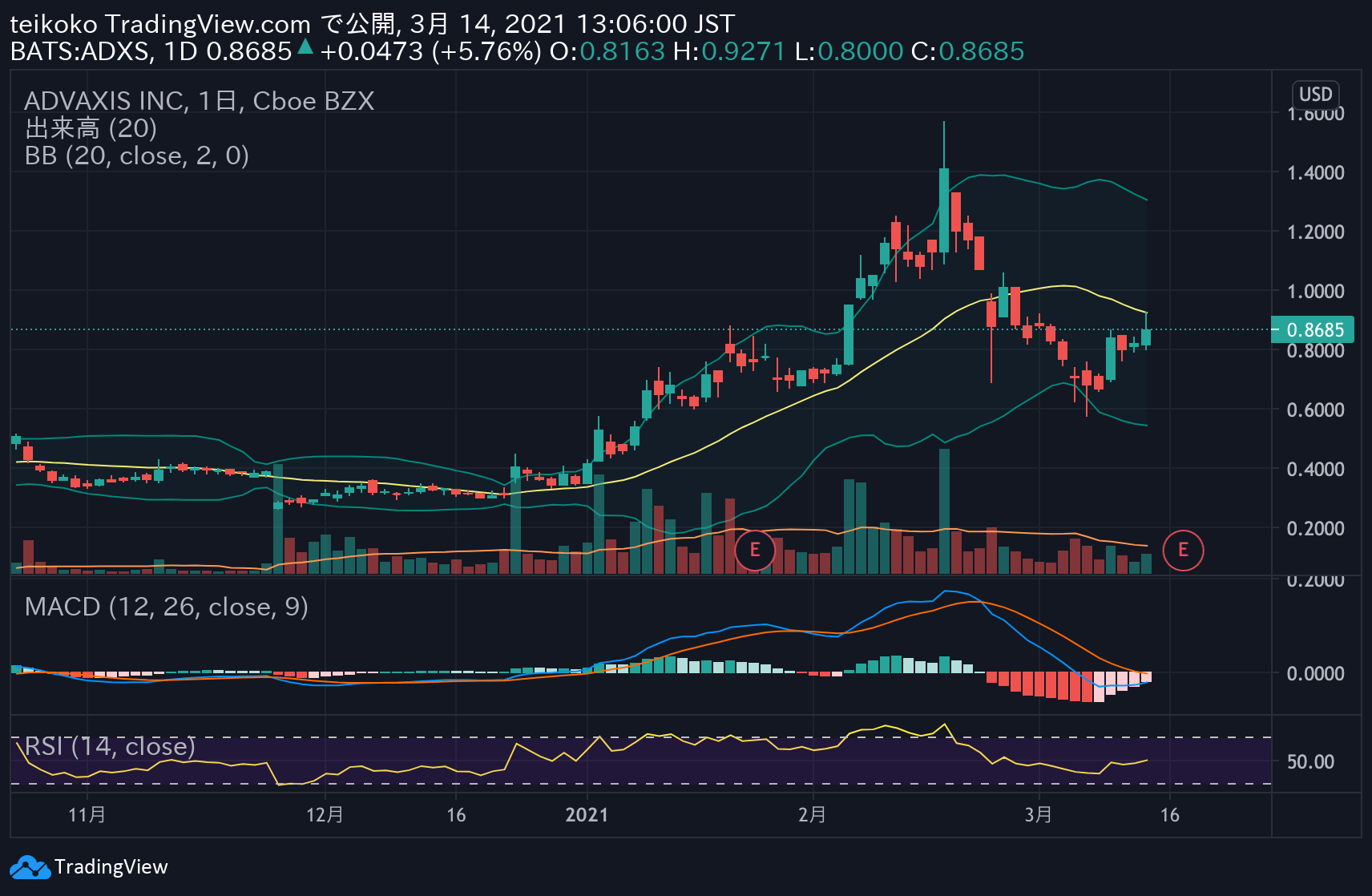 I bought it as a penny stock for $0.3, but it went up a lot.
This was also a biotech / healthcare-related stock, but it is on a recovery trend like the TECK series.
You can sell it at any time, but leave it in your possession.
Indonesian shares held
TIMAH TBK PT(TINS)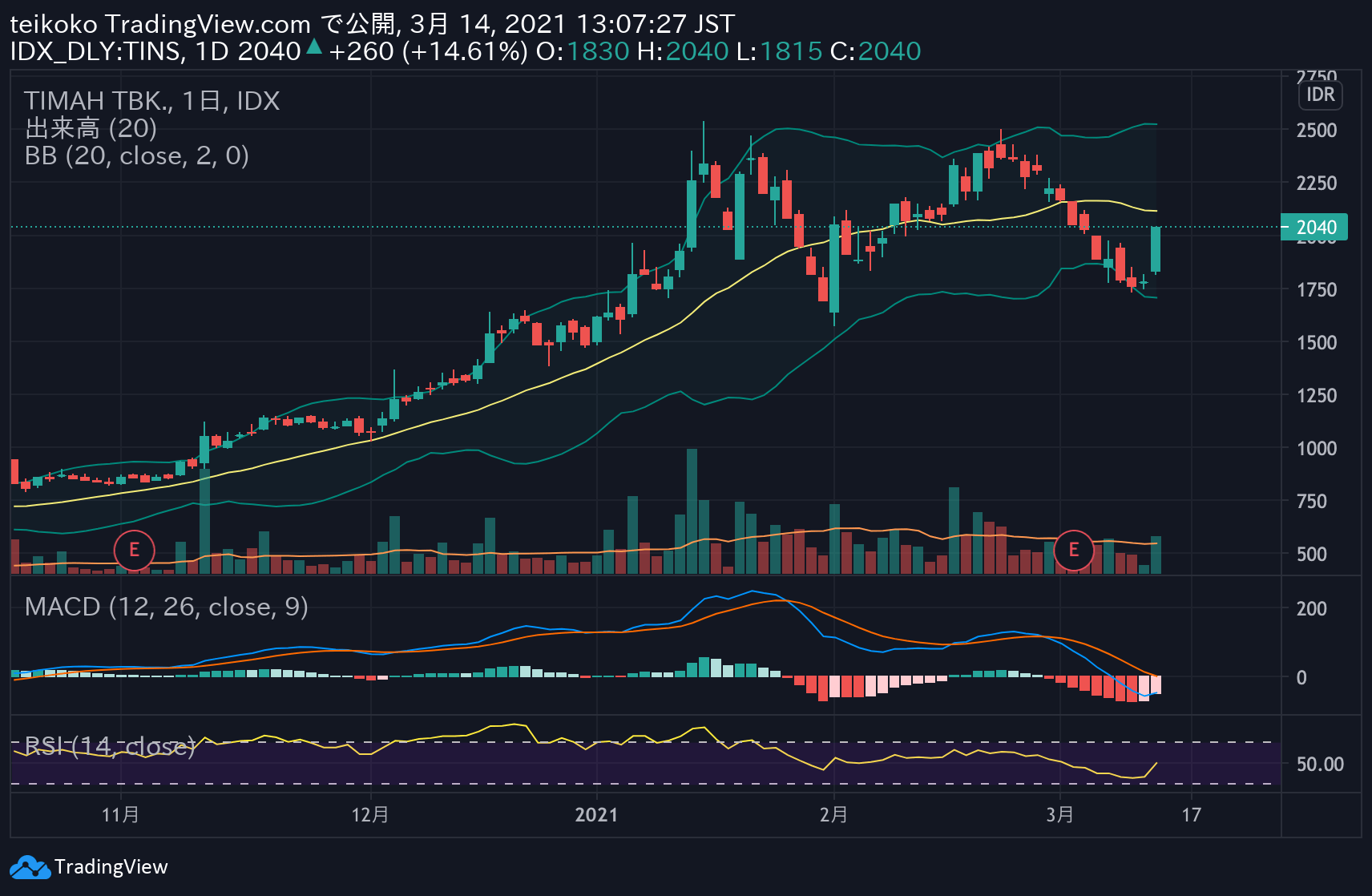 It is a mining company mainly for tin.
It had fallen along with the fall in US stocks, but it is on a recovery trend.
In the first place, it goes up and down above the price I bought, so leave it alone.
RESOURCE ALAM (KKGI)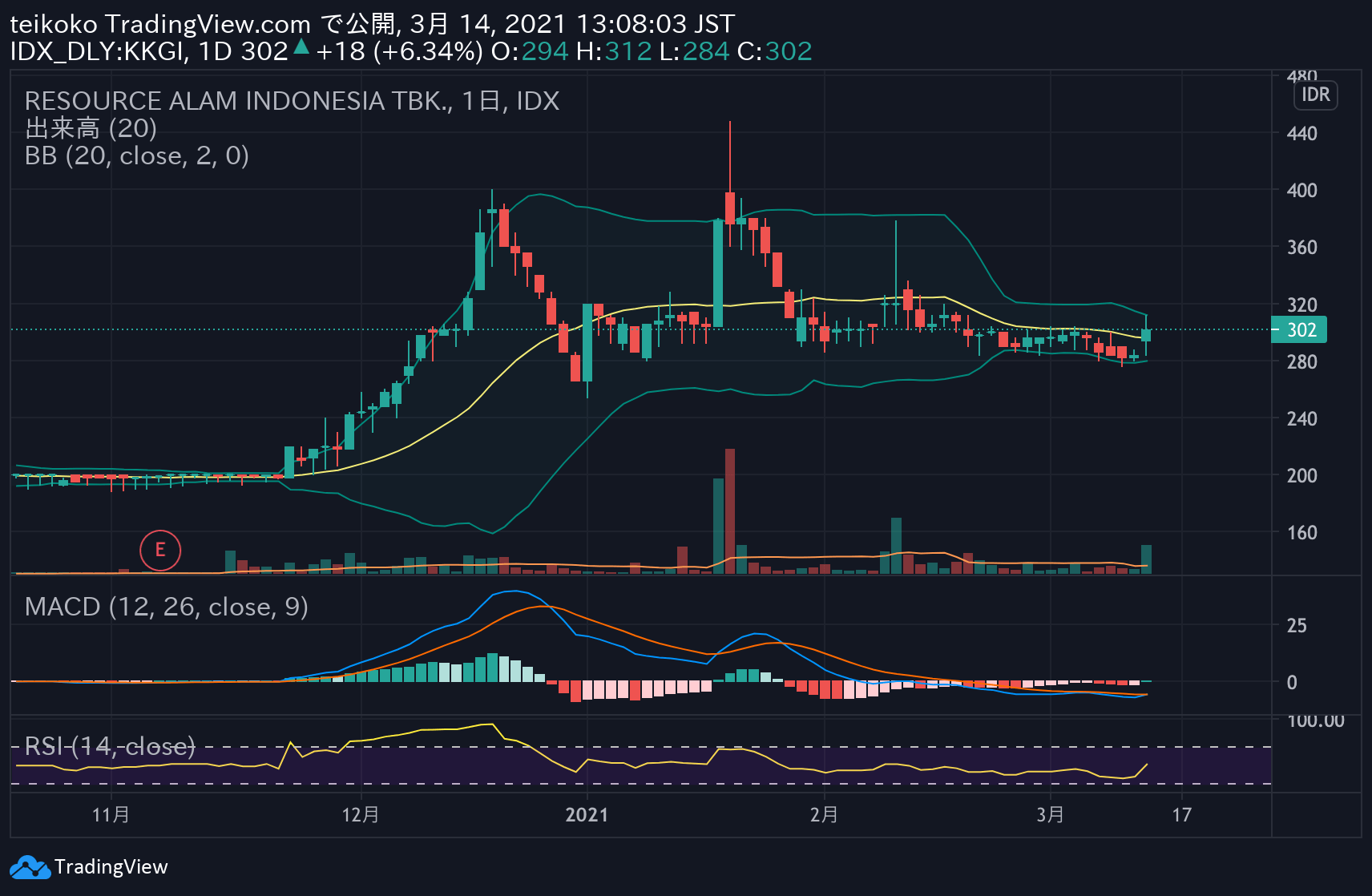 It's mainly a coal-related company. It goes up and down repeatedly, but it is flat. I feel like I can't break through the 400 walls.
Vale Indonesia Tbk PT(INCO)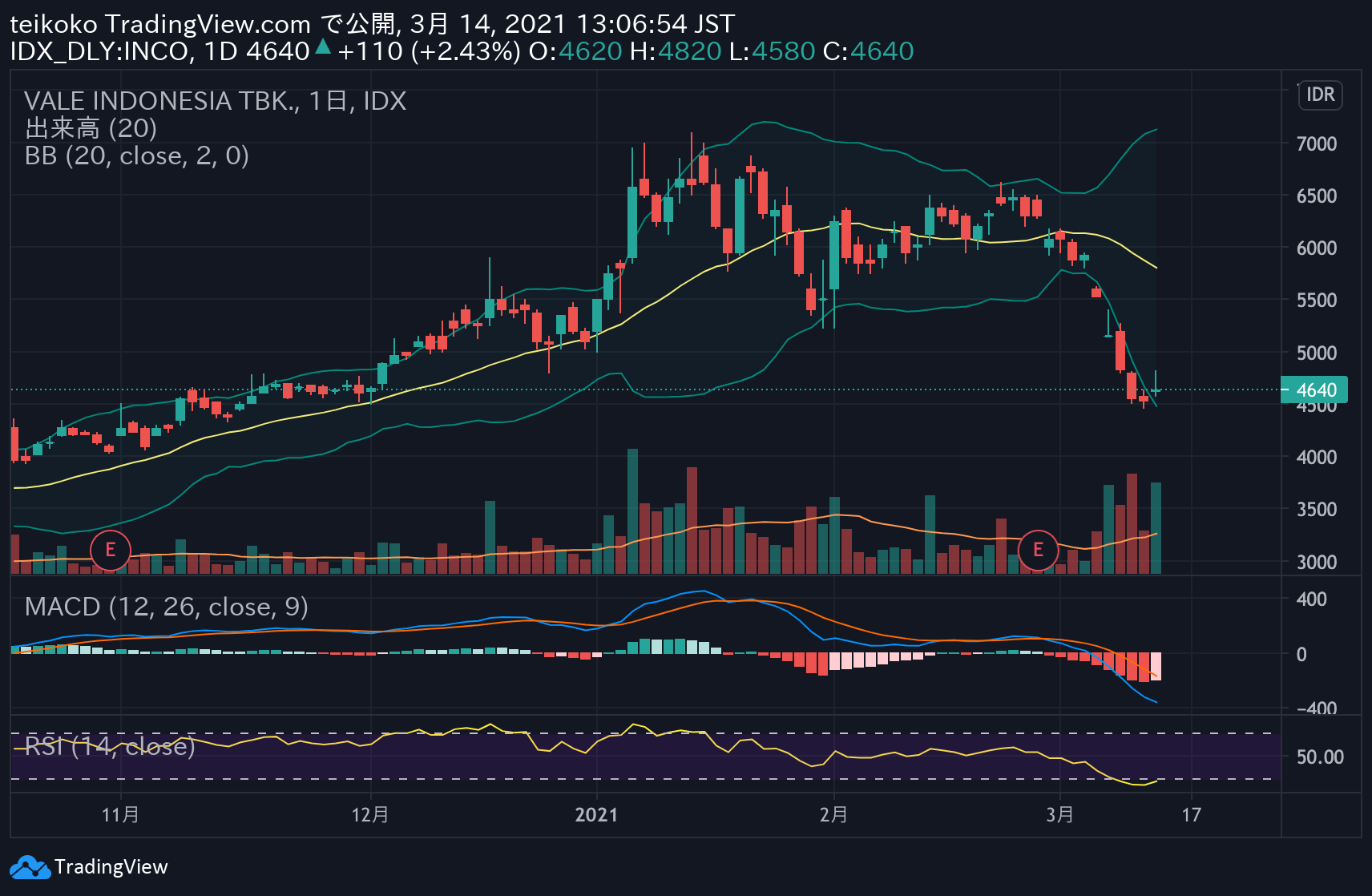 There are many negative factors such as the price of nickel plummeting and falling below the forecast, and the price has fallen considerably.
Nickel prices have subsided, but remain flat, leaving some uncertainties.
However, there is no reason to sell it, so I keep it.
Strong stocks in mid-March
Frontline Ltd(FRO)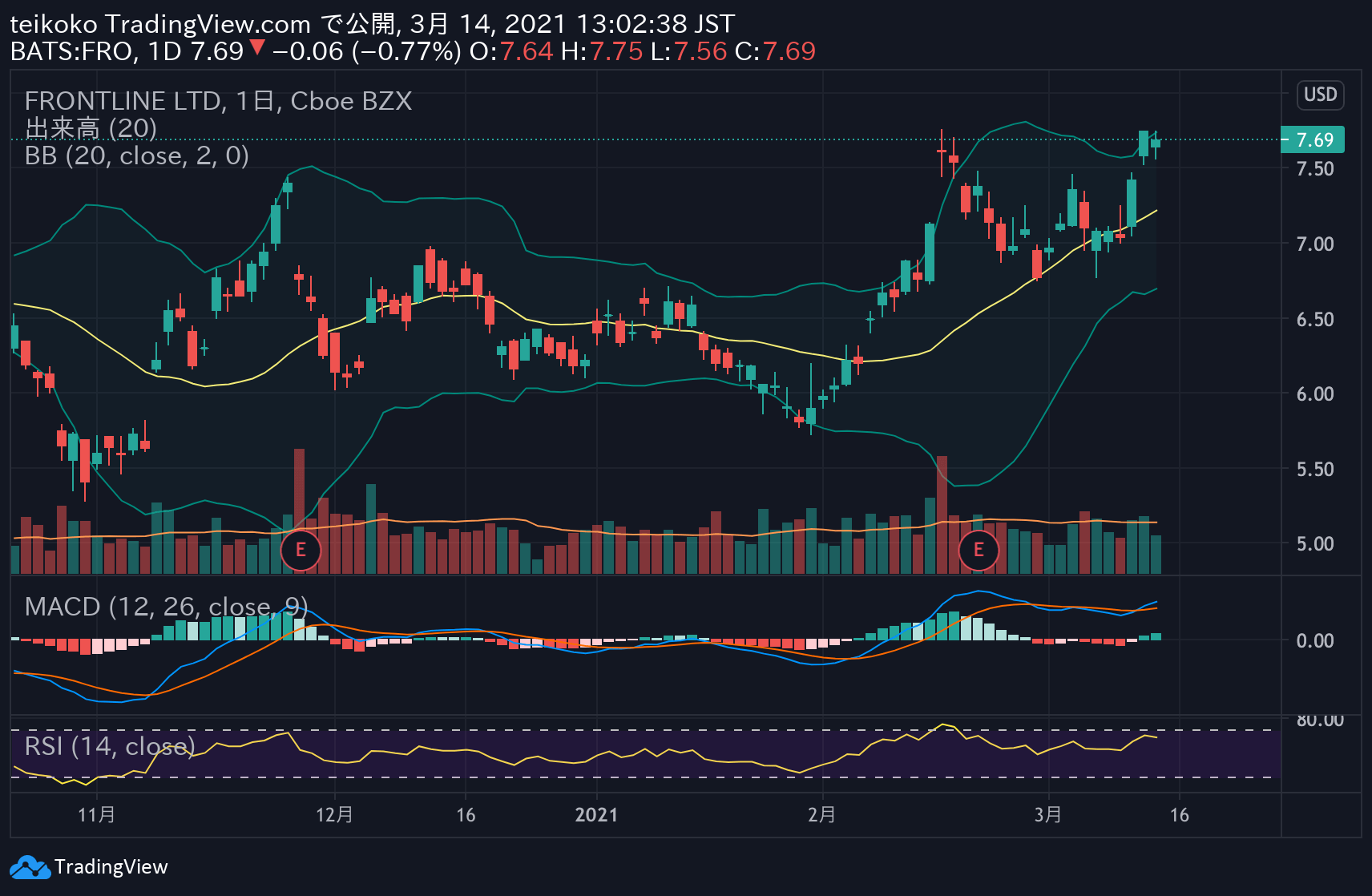 It's a Scandinavian shipping company with a dividend forecast of 20% or more. Why does the dividend rate change depending on the site?
There are quite a few errors. Is the calculation formula different?
In 2020, you will see $1.3 (USD) per share. If the stock price is $7.69, it will be about 17%.
Percentages are falling as stock prices rise.
Technical: I think it's on the rise. If it exceeds 8.50, it seems that it will rise further.
It feels like a tailwind, partly because oil prices are on the rise.
Fundamental: Reference Q4 2020 FRO press release
As a business, it tends to be influenced by oil prices and oil-related regulations.
If anything, I think the impact of "oil" on the stock price is greater than that of the business itself.
Softbank(9434)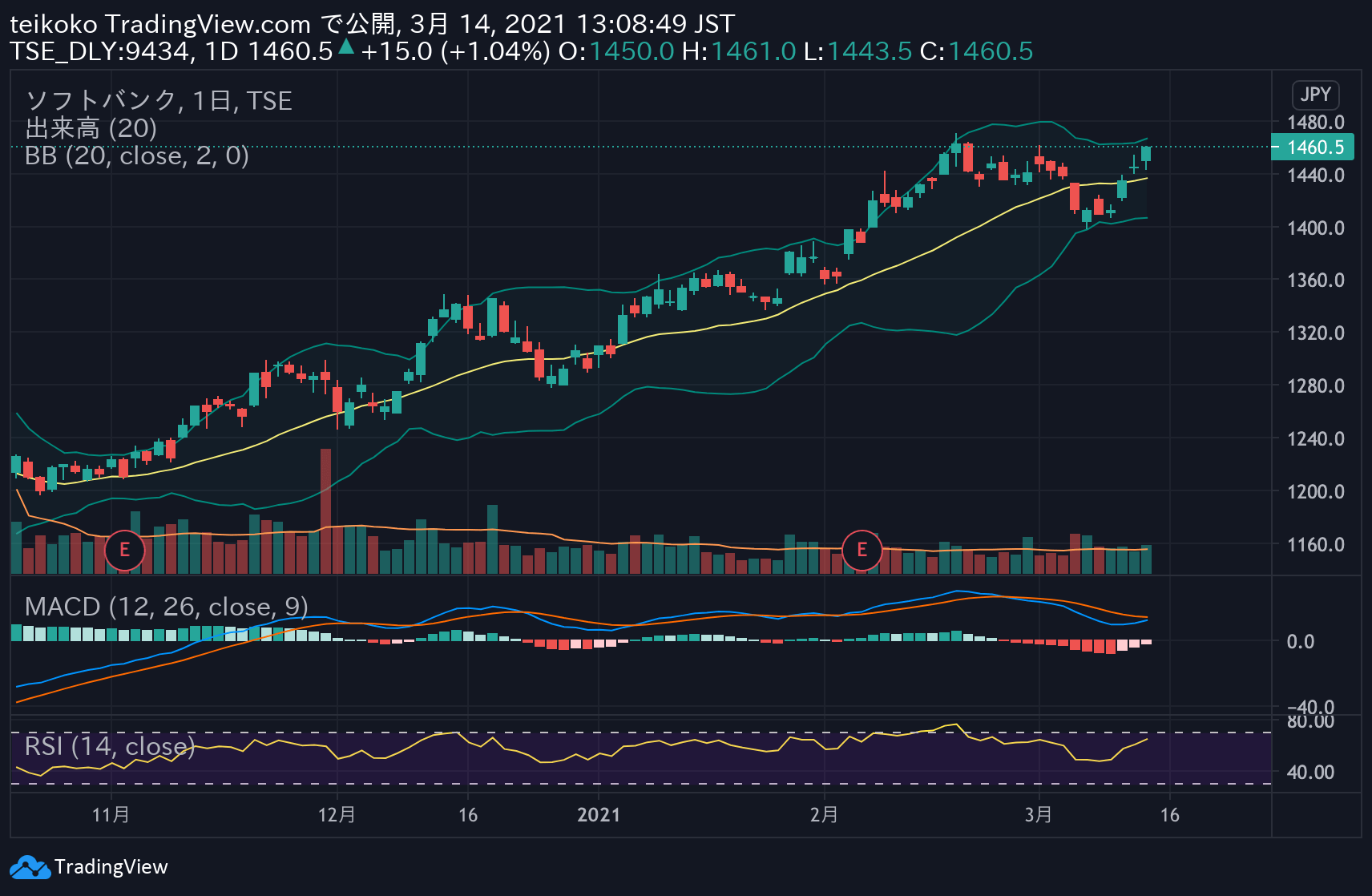 Japanese stocks are owned only by Softbank (mobile).
As with fundamentals, stock prices are rising steadily. When I first bought it, I was planning to sell it for ¥ 1490, but considering dividends, I feel that I can keep it.
Newly added stock
Tilray Inc(TLRY)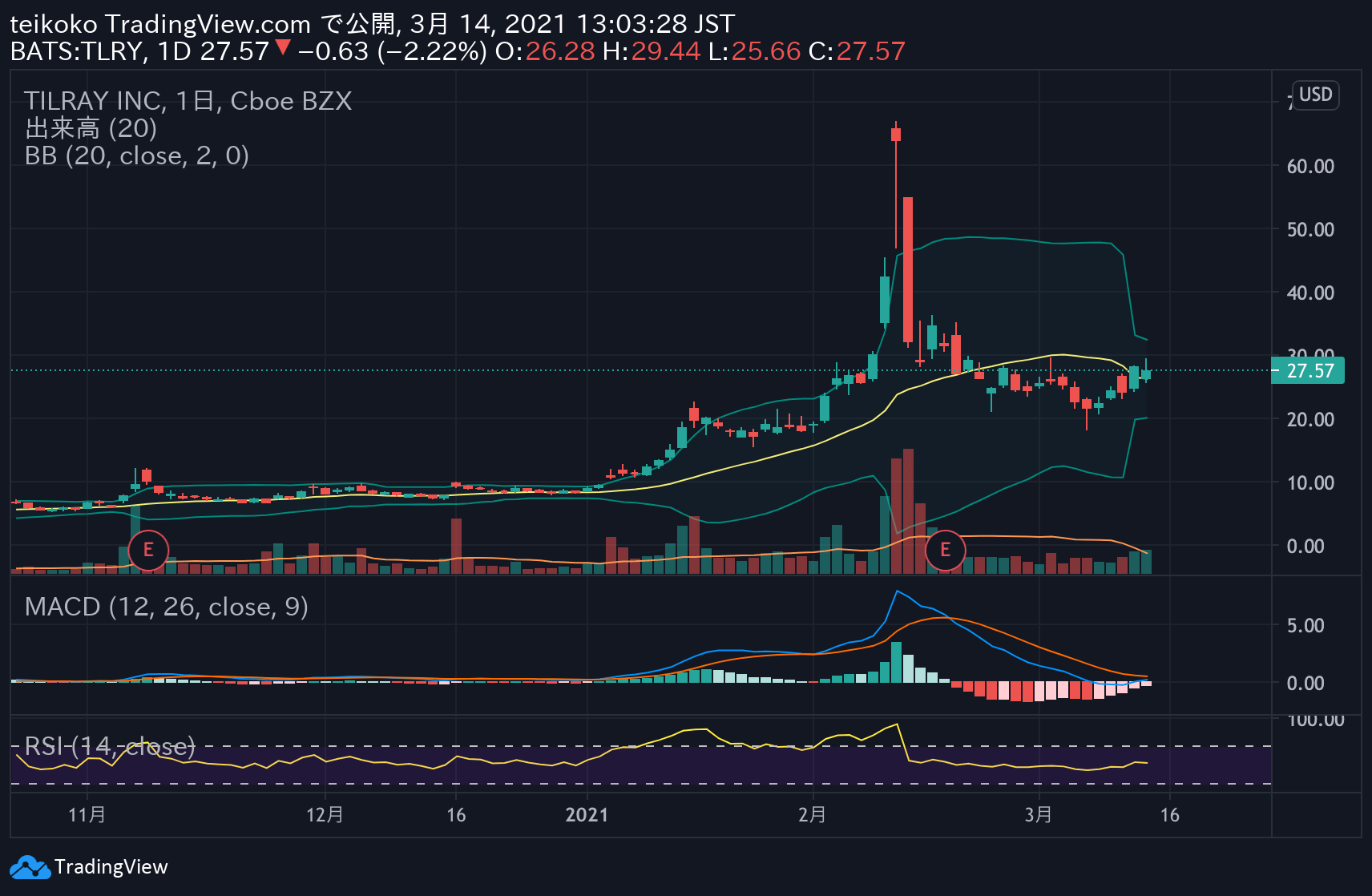 This is a new stock held this month. Cannabis-related strain.
I didn't buy it because I wanted it when it was about $8, but I bought it again for a short period of time.
From a fundamental point of view, it can only be said that it is expected in the future, but it seems that it is performing better than the market forecast.
P/S is 16 times or more, P/B is 13 times or more, which is close to the TECK strain.
I will decide the future policy around the end of March.
Summary
If the recovery trend continues as it is, I have a feeling that March will be able to increase assets from the end of February.
I decided not to take much action against the down market and tried to execute it, but I am looking forward to what will happen at the end of the month.