In December, prices are not moving much overall, or they are going up and down.
However, "Palantir Technologies (PLTR)" bought in exchange for Nio Inc ADR (NIO) has been raised.
This month is the last of the year, so I challenged stocks outside the United States.
Indonesian stock. I use SBI Securities, but in order to buy Indonesian stocks, I must first exchange money with Indonesian Rupiah in foreign exchange transactions.
If you have Indonesian rupiah, you can buy Indonesian stocks in foreign currency trading.
Stocks bought this month
VALE INDONESIA (INCO)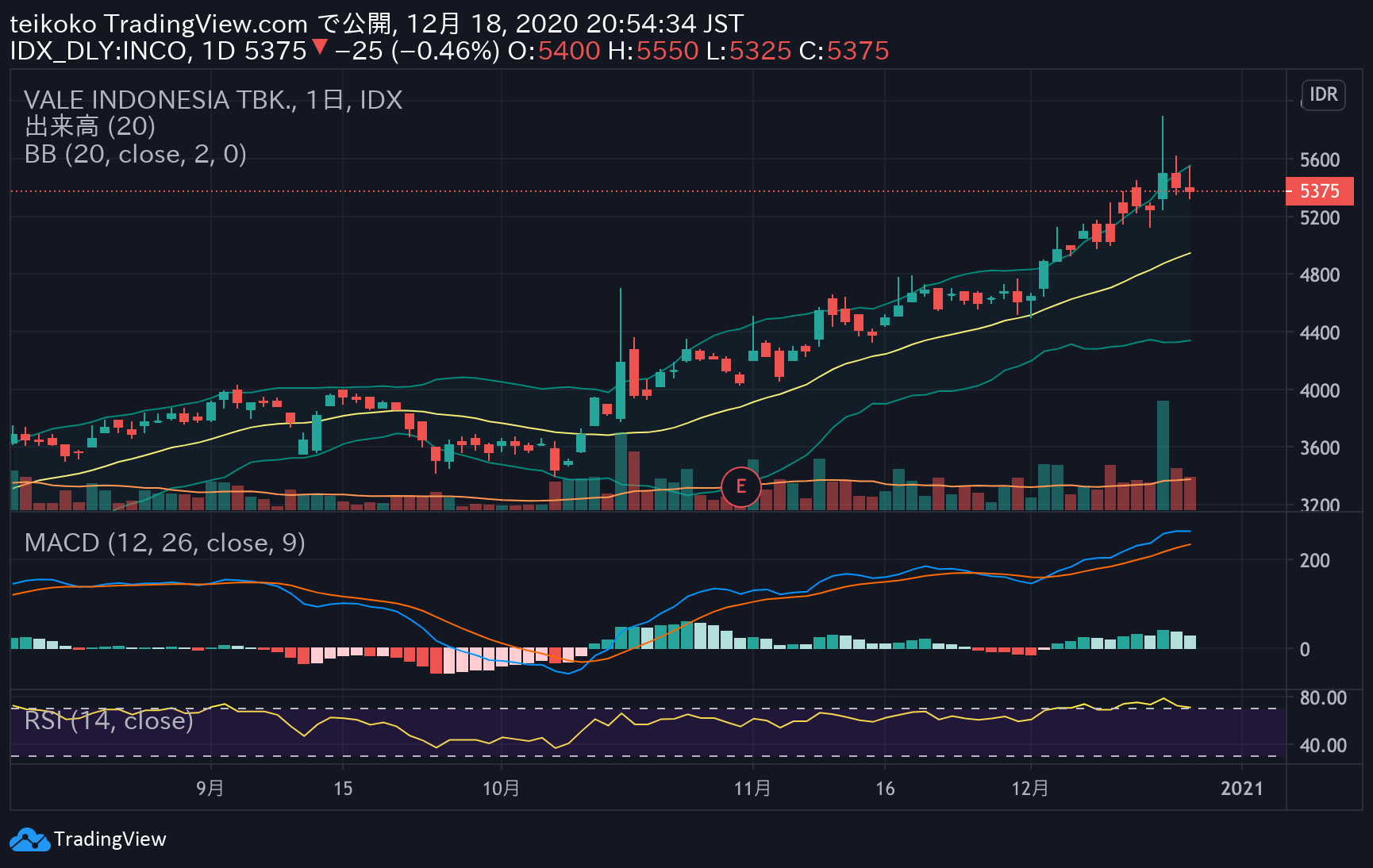 Website
It's a mining company. Nickel, rare metals that can be mined by attached, copper and iron, etc. seem to be mined.
Financial analysis has been rough lately (because we have no idea if covid-19 is affected). The capital adequacy ratio seems to be high. In addition, profits are likely to come out if there is no capital investment. I feel that I am stablely profitable from the financial information that can be confirmed by SBI Securities.
TIMAH (TINS)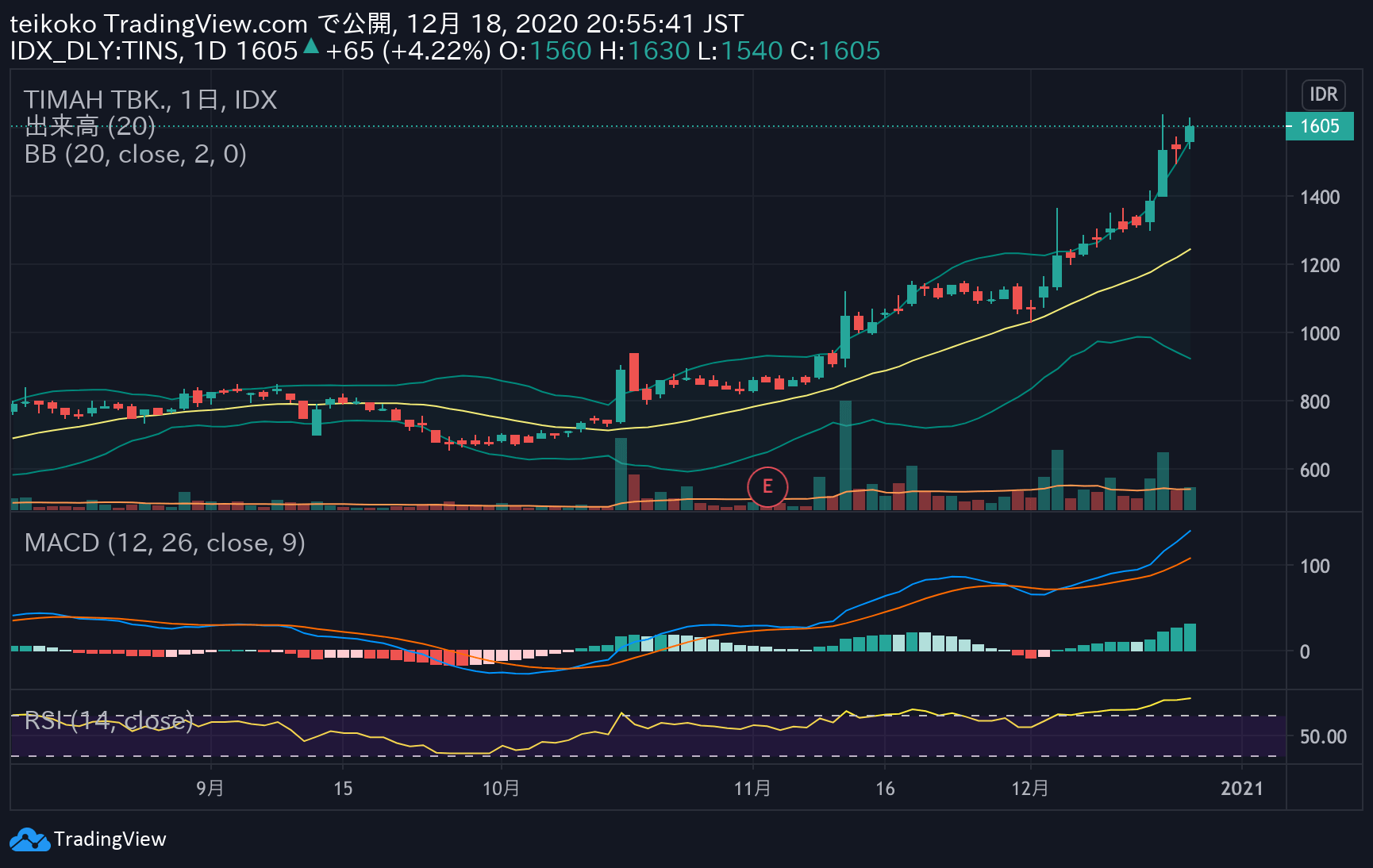 Website
This is a tin mining company. It also manufactures tin products. I wanted a resource stock in Indonesian stocks. Only the above VALE was fine, but I did not know the sense of the company, so I tried to disperse it. This is a little bad financial. I feel a little uneasy about whether it is okay, but I thought it was a burden such as capital investment and bought it.
There are various coal mining companies such as India TamBangaraya Megau (ITMG) for Indonesian stocks, but this is why it looks more interesting than coal. Coal companies have good dividend yields and are featured on other sites.
News of the Week
ADXS
There was some disturbing news in Advakis (ADXS) introduced the other day.
It was described in the above chameleon that I usually see.
"SHAREHOLDER ALERT: Levi & Korsinsky, LLP Notifies Shareholders of an Investigation Concerning Possible Breaches of Fiduciary Duty by Certain Officers and Directors of Advaxis, Inc.- ADXS"
In summary, what officers may be doing illegally? Alleged.
If you don't have stocks, you'll go through this kind of news, but I thought it would be good to be interested in having stocks.
Shares sold in December
NEXT FUNDS India Equity Index Nifty 50 Linked Listed Investment Trust
It is linked with India NIFTY, and it has improved well, but I sold it for the following reasons.
・ I can't sell when I want to sell
・ There is a fee but no dividends
I bought it because I thought I would hold it for a long time, but I thought it would be better to switch to a dollar-denominated ETF.
Tillay 2 (TLRY)
It's a medical cannabis company. I tried to pay attention to the cannabis legalization bill passing the House of Representatives. It seems that it will not be enacted as a bill in the first place unless it passes the Senate.
But the result went down the moment I bought it and cut the loss. I got into a common pattern that says that if you cut loss, it will go up by about 20%. Sorry.
Summary
In early December, there were many high-profile IPO stocks such as C3AI, DoorDash, and AirANB. I don't buy any of them, but I want to buy C3AI when it calms down. We are also aiming for a silver mining company called GATOS SILVER.
It is only a mining company, but it looks a little good. Let's buy a little around today.
I noticed that it was put together, but yes, GE was also sold.
#stock investment