Recently, I often see the news that it is a bubble market now, but the stock price including the Nikkei average is certainly rising.
My holdings have been down a bit since I made a profit last month.
I feel that the bubble is rising tremendously with Bitcoin-related stocks (owned stocks) and Cannabis-related stocks.
It seems that the stock price is moving quite a bit, partly because it is before and after the settlement of accounts.
Movement in the first half of this month
I bought the same number of Palantírs that I sold half last month. The reason is that Palantír was affordable at a time when stock prices were rising across the board.
UBER Technology sold all shares. It may increase in the future, but since it was about 50% higher, I made a profit.
With the gain on the sale, I bought RLX technology.
A stock that has just been IPOed and is a Chinese e-cigarette company. When I check the product etc., the making is solid and it seems to be sloppy.
I thought that the market for electronic cigarettes would continue to expand in the future, so I bought it. For some reason, it had returned to the price I had just IPOed ($ 22) this month, so I bought it at that time.
After that, I bought Xiao Pen XPEV (Chinese EV maker) with the gain on sale last month. I was at a loss with NIO, but I chose this one.
Price of shares held
The front line (FRO) that I bought earlier this year is rising.
I'm expecting dividends, so I'd be happy if the stock price goes up as well. The front line is a shipping company, but I think the business performance is sloppy.
The Advaxis NASDAQ: ADXS, which I bought from Penny stock, has also gone up a lot. Is it about three times now?
It's a plus overall, but is there a bubble burst?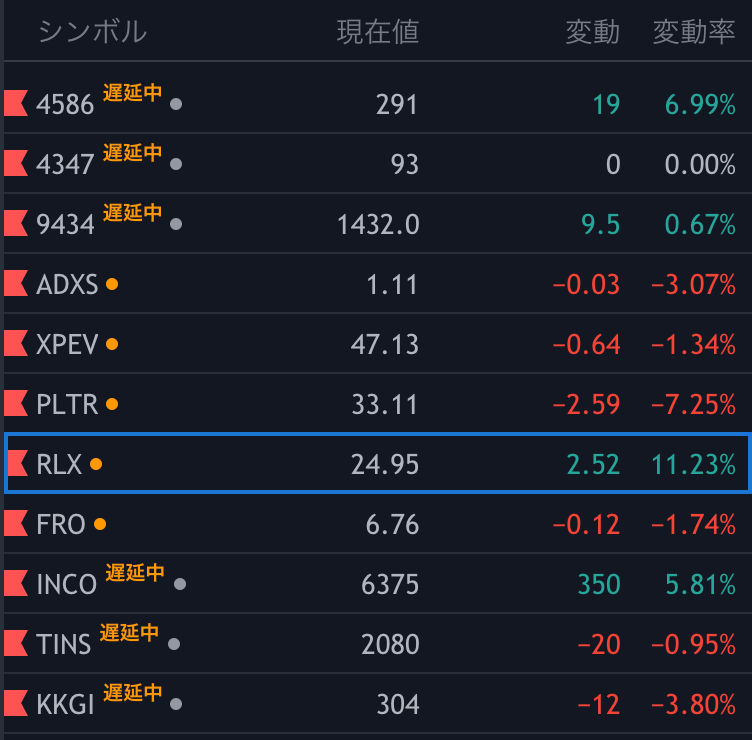 This is the current stock. Softbank is the main Japanese stock.
Indonesian stocks are left unattended because there are no other stocks I would like to buy.
Learn how to read financial statements
At the end of the fiscal year, I bought a book thinking that I could read more information from the financial statements.
I'm still studying.