After reading "Rich Dad Poor Dad" in June of this year (2020), I learned about investment and practiced it.
I decided to leave it on my blog as a journal for my actions.
I will write what kind of idea I chose the stock while I was a beginner.
I might be laughed at if I read it back later, like, "Why do you buy such a brand?"
Anyway, I started investing in stocks in Japan.
The book I read when I started investing in stocks
First of all, I read a book as a study of the stock.
"The World's Easier Stock Textbook 1st Grade"(Japanese)
It is a book in which a very basic thing is written. You can learn the basics of how to read charts, the basics of technical analysis, and the basics of fundamental analysis. It was an impression written about a relatively short-term trade. The explanation such as how to cut the loss and the timing of the profit confirmation was easy to understand, and it was helpful because it was a theory.
a book I read after I started
This is the book I read by September today. I also read books on real estate investment, but I decided to start with stock investment. Information on stock investment? However, I was not familiar with it, So I decided to learn from Youtuber.
One is Mr. Taro Buffett and the other is Mr. Dan Takahashi's Youtube. They were publishing a book, so I bought it.
"U.S. Stocks High Dividend Investments That Even Idiots Can Earn"
I was quite funny reading with a venomous tongue.
In particular, it was written about risk hedging such as risk and distributed investment, and it was very helpful to learn the idea of long-term investment.
As the title suggests, it is a push for U.S. stocks, but it was also introduced in detail about ETFs and so on, and it was a good learning experience.
YouTube is also very helpful. I like to say things that Mr. Buffett Taro's talks frank.
"How to increase money practiced by rich people around the world"
It is a book that Mr. Dan Takahashi recently published, and covers not only stock investment but also topics related to money.
Because only the important thing is described, it is very easy to understand, and I felt that it is packed with a lot of wisdom in one book. I have read a variety of success philosophy books, but it is recommended that it is described simply without waste!
It may not be suitable for those who want to read a lot of episodes and examples around.
Youtube provides two daily information on world news and stock topics.
There is also an English version, and after listening to Japanese, I listen to English and study English.
I didn't know what kind of news would lead to stocks, so the videos that Dan introduced were very helpful.
Thinking about Investment Risks
There are many things I learned from the above books, but the most important thing is the idea of risk.
The greater the risk, the greater the profit and loss, and the smaller the risk, the smaller the profit and loss.
In the rich dad poor dad, it was received that it was good to take the risk positively, that is, to repeat the risk large investment. In addition, I noticed that rich dad and poor dad are not single-risky, but rather that they should control risk based on the results they want.
What I learned from this book is how to control risk in stock investments and other investments.
Risky Investments
Investments beyond the scope of their assets, such as leverage and credit trading, are not mentioned here.
I think that the following idea should be seen as my opinion of the investment beginner to the last.
I think the biggest risk of investing in the range of your own assets is buying one point.
On the other hand, the way to buy to reduce the risk is distributed investment.
To put it simply, it is a one-point purchase to spend all 100 assets at once.
It is dispersion to divid 100 assets into 10 and turn them into various investments.
I learned that there are many ways to distribute investments.
*Buy multiple stock stocks and other commodities (gold, futures, mutual funds, government bonds, etc.)
*Buy by shifting the time to buy
*How long do you own it?
Basically, I think it is the variance of the "number" and "time" above. The book also shows you how to hedge your risk further. I think it's better to actually watch their Youtube than for beginners to explain, so I'll give it a look here.
Looking back on my investment as a beginner
Securities companies were good everywhere, but for the time being, I decided to make SBI securities(in Japan service) where I could buy overseas investments, futures, gold, etc.
I don't have enough assets to distribute in the first place.
It starts from $10,000 in the amount. I thought about dividing it into a thousand dollars, but I decided to buy two stocks for the time being.
(At this point, I haven't read the books of Mr. Buffett Taro and Mr. Dan Takahashi yet.)
However, I have not collected any information about stocks until now, so all I can choose is a brand that I know with my own knowledge.
I thought that it was a stock with a high dividend in the ranking information of Yahoo Finance, etc., but I do not know which one is good somehow.
The only information I have is the information of the "Four Seasons Report(famous Japan Company Report)" in the stocks of SBI Securities.
I also work in IT,then I chose an affiliate company.
Fan Communications (2462)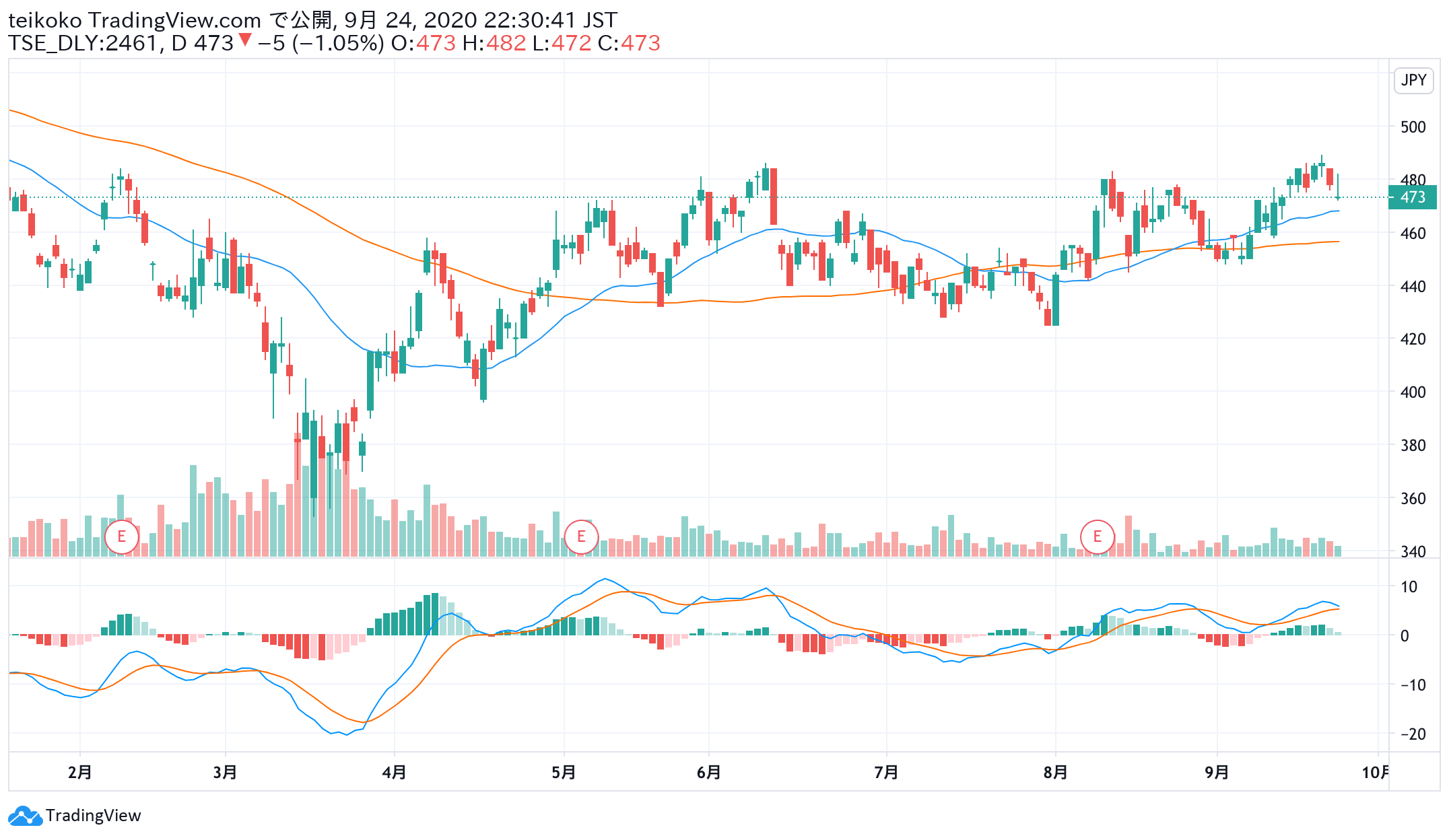 I bought it for 460 yen at the time of June.
The reason was that the moving average, which was explained in the first book I read, was like a buy sign.
After the corona, IT stocks were getting a lot of attention.
I sold it with the feeling that there was no loss in about August.
It may go up a little from now on, but I thought that the contents of the business did not feel so interesting to me of the seasonal report information base, and I thought that it might continue to go up and down the price of about now unexpectedly. I sold it with the thought of using it as another brand.
If I sell it with an interesting thing, I sell it, and I am worried about the price even if I do not have it.
The other was that I thought it would be nice to have a company that had some overseas strategy, so I chose a trading company. I chose this brand from the top five companies.
Marubeni (8002)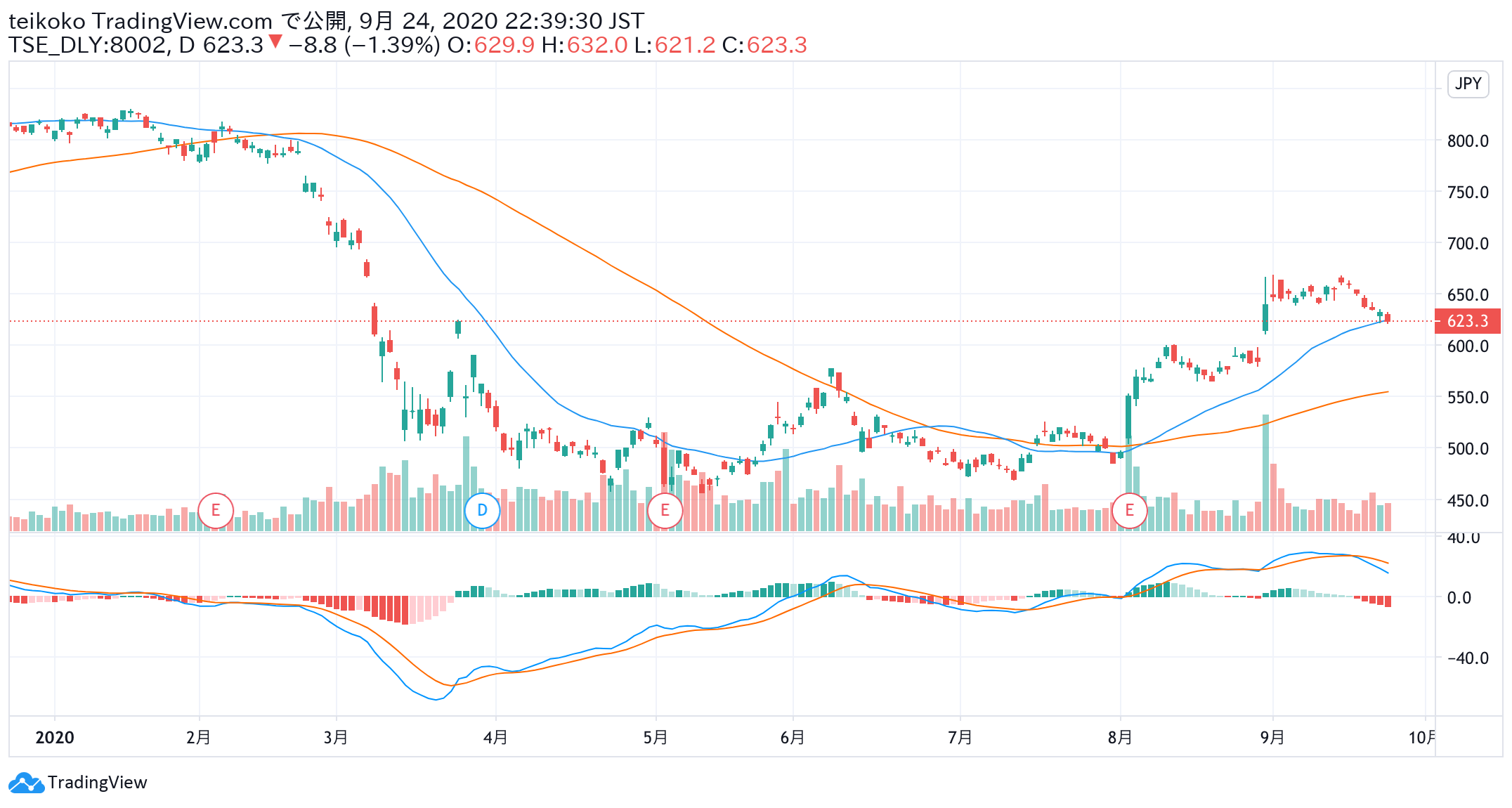 I bought it for 510 yen as of June.
When I read the four seasons report, I was able to read that "grain" was strong.
It never seemed to be a good performance, but Marubeni was investing in new attempts as a business.
I bought it for a reason such as. The rest is because COVID-19, it looked like a very cheap stock from my point of view.
In addition to Marubeni, there are other trading companies, but the main reason is that I felt "cheap" because stock prices had not recovered.
This is still held now. Because I originally intended to have it in the medium to long term.
Thanks to Warren Buffett's name, the price has risen faster than I expected, but I still don't want to sell it.
Stocks held as of the end of September
I have the following other than the above Marubeni.
Akatsuki Headquarters (8737)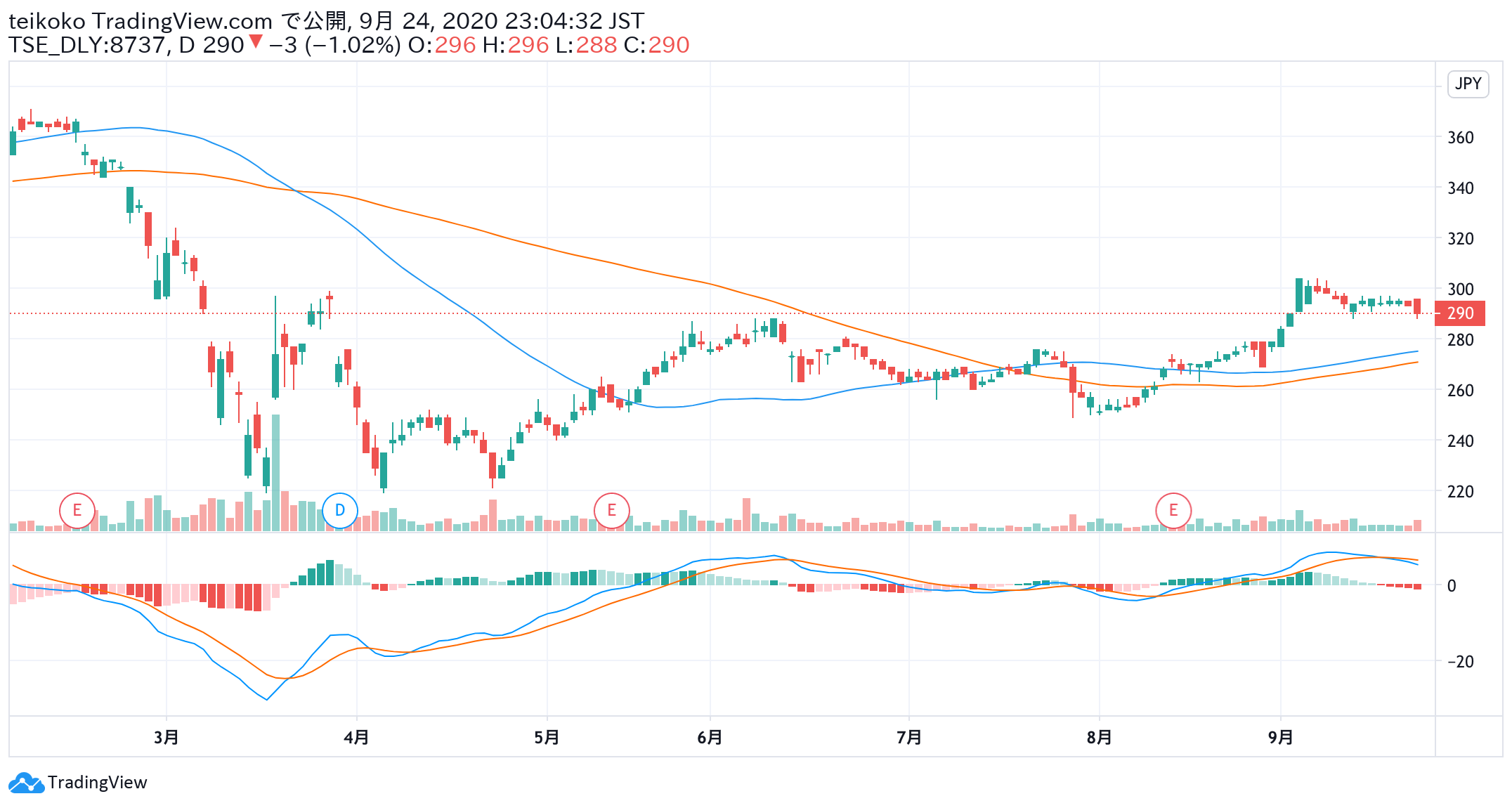 It is a stock found in the feature of the high-dividend stock. The performance was not so bad, and real estate was a little concerned, but when I looked at the chart of stocks, I felt that it was likely to rise steadily in the chart of the feeling that it continued to rise steadily before and after COVID-19.
It feels solid as expected so far.
Sumitomo Corporation (8053)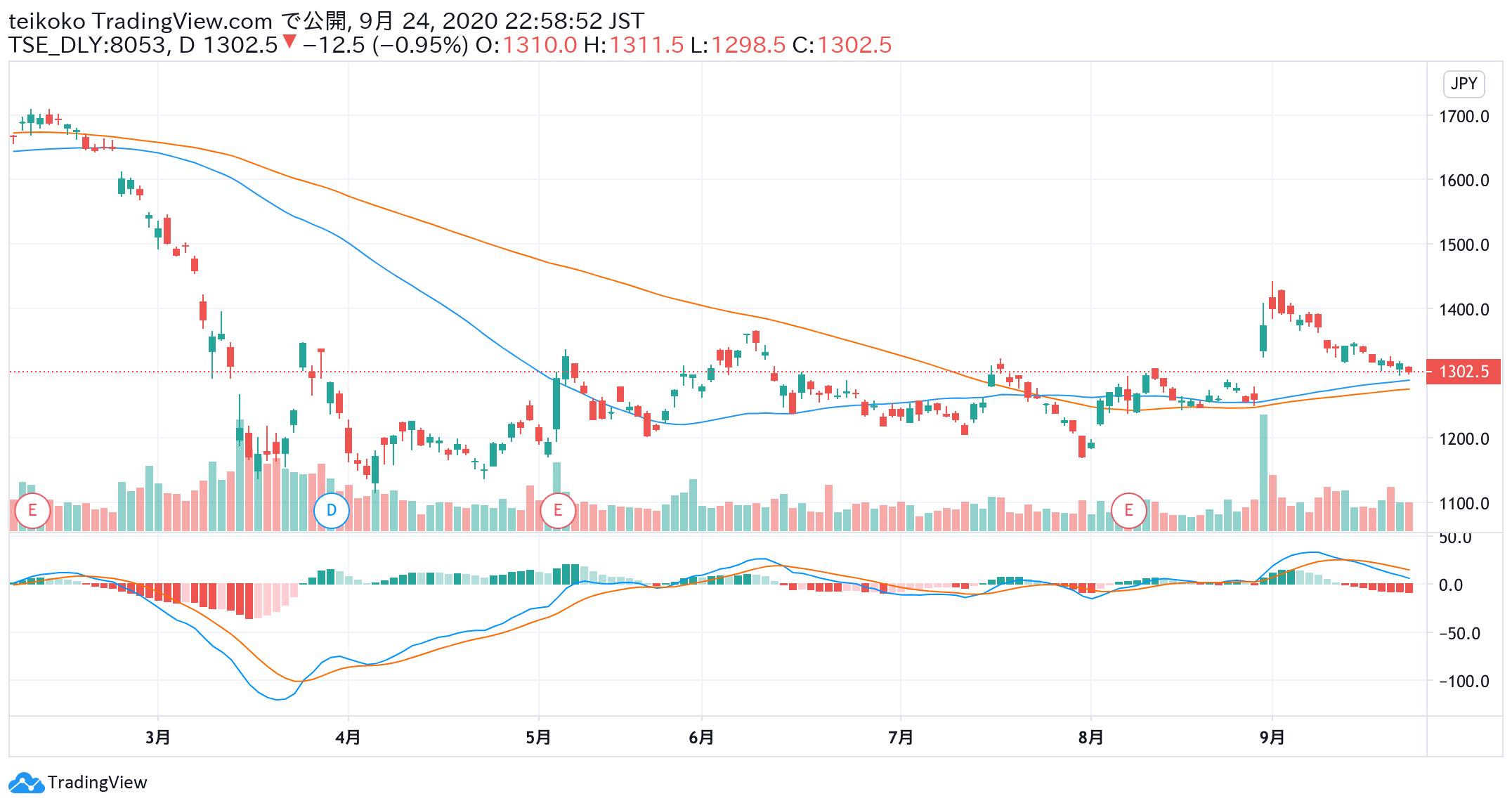 I thought that this was good when I was examining Marubeni.
When the company announced its financial results, it became even cheaper due to a large deficit. I paid attention to the nickel and hydrogen business that Sumitomo Corporation is doing, even though it is deficit. However, it may not recover this year because of the large COVID-19 influence.
I think that it is still cheap, but I feel that it is not time to buy now with a stock that must be patiently held for a long time, but I buy more every payday. Why?
Thanks to Mr. Buffett, Sumitomo recovered a little, but I expect to get back to where they were soon because they most recent performance is too bad. I'm looking forward to it about a year and a half later.
SPDR Portfolio S&P 500 High Dividend Stock ETF (SPYD)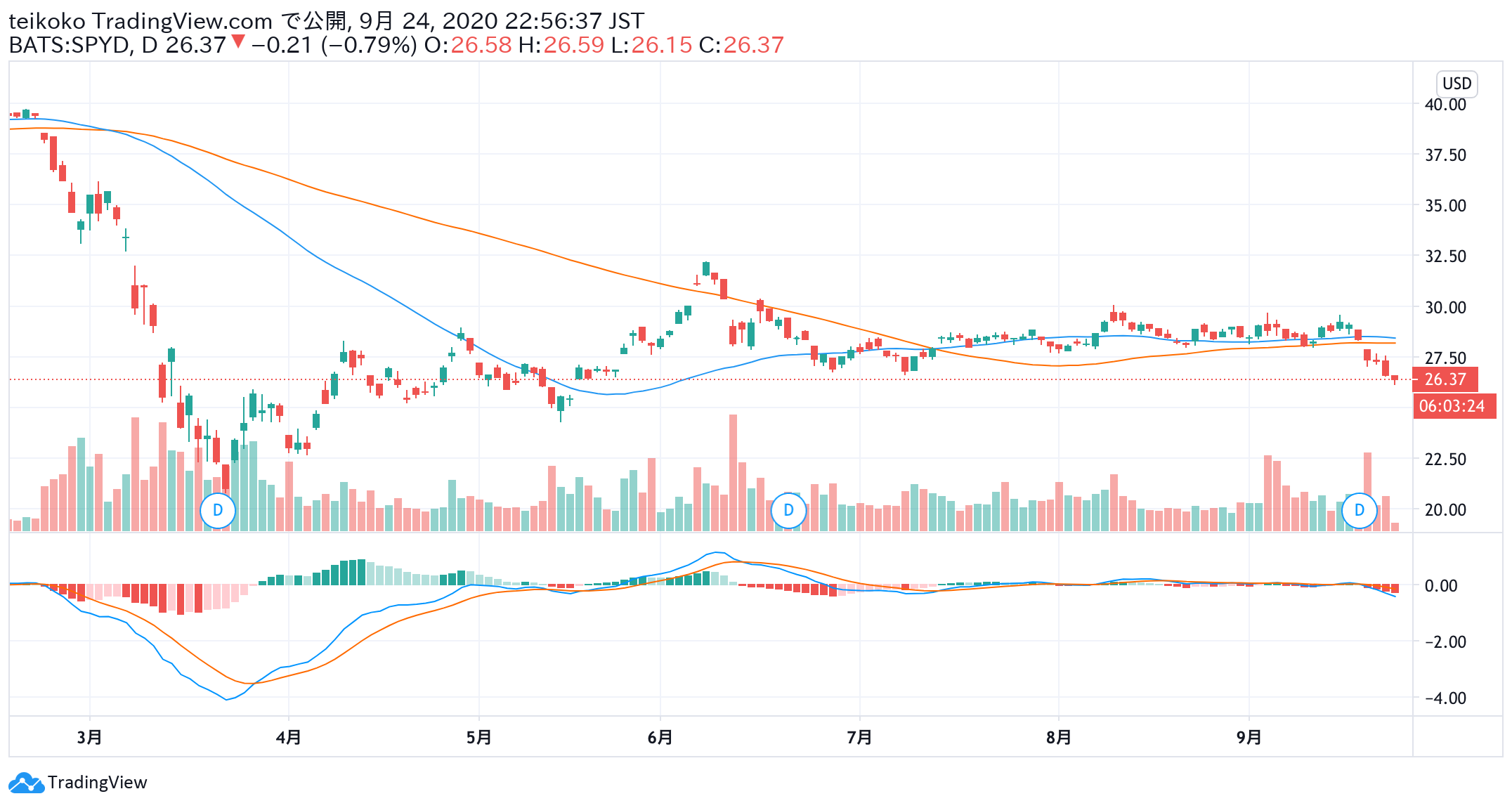 I read Mr. Buffett Taro's book and searched for ETFs with interest, but since a tremendous number came out, I decided to look for them first in the U.S. S&P 500. It might be good to choose the thing of the TECK stock center obediently, but when I was going to buy it somehow, I felt a terrible expensive feeling and did not have the courage to buy it.
What I selected was a collection of minor items in the S&P 500. It feels like finance, real estate, utilities, and energy are at the core. I decided to buy it because I liked the price movement like Europe even though it was the US S&P 500.
I don't think it's going to go up soon, but I like it that it's going to go up slowly.
There is a financial scandal in September.The price goes down a bit, but I'm not too worried.
Although it is the main finance, it is a collection of various stocks, so it is good that the influence is flattened.
I think that I will write a blog as my transaction record in the future like this.
Please do not refer to it because it is a beginner's consideration to the last. I'll just be on my mind.
There are no people who are doing stocks around, and there are no people who can be called mentors, but I think Youtube will lead to my own learning very much. I collect information around Youtube and search on Google for the missing part.
I really appreciate the Youtuber!
#stock investment