I was registered with an Amazon Associate(JP) and used a product link, etc., but by now I have noticed that I have a Japanese Associate Product Link on my English page.
So, this time I decided to show you how to register with Amazon Associations overseas (USA).
***This article is for those who live in Japan.
Outside of the U.S., Amazon Associates exist in other countries.
It will be in the list below.
JP: http://www.amazon.co.jp/associates
US: http://www.amazon.com/associates
UK: http://www.amazon.co.uk/associates
DE: http://partnernet.amazon.de/gp/associates/join/main.html
FR: http://partenaires.amazon.fr/gp/associates/join
CA: http://www.amazon.ca/associates
IT: https://programma-affiliazione.amazon.it/
ES: https://afiliados.amazon.es/
IN: https://affiliate-program.amazon.in/
This time I would like to create an account for the United States. So it is the following address.
US: http://www.amazon.com/associates
STEP1 Overseas Amazon account registration
To get started as an associate, first create an account on amazon.com.
If you originally had it, you don't need it. Log in with your existing amazon.com account.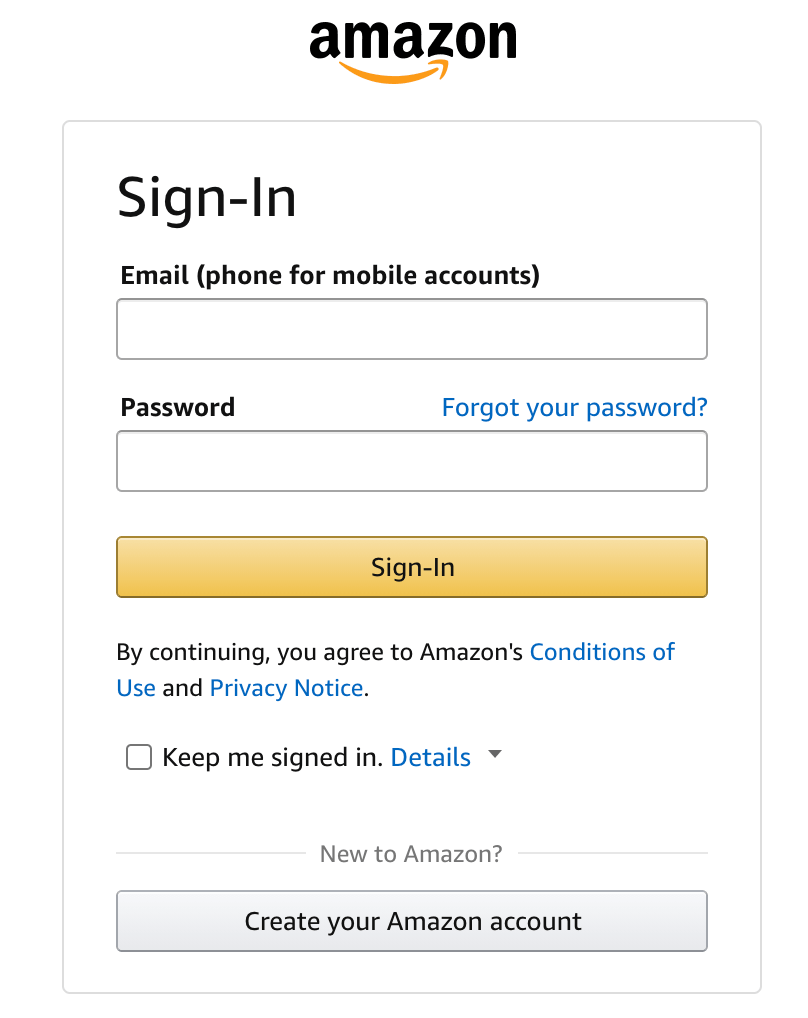 Click Create your Amazon account to get started.
When you enter the required information, you will receive an address confirmation email to the registered e-mail address.
Once you have entered the code in the email, registration is complete.
STEP2 Making an Amazon Associate Account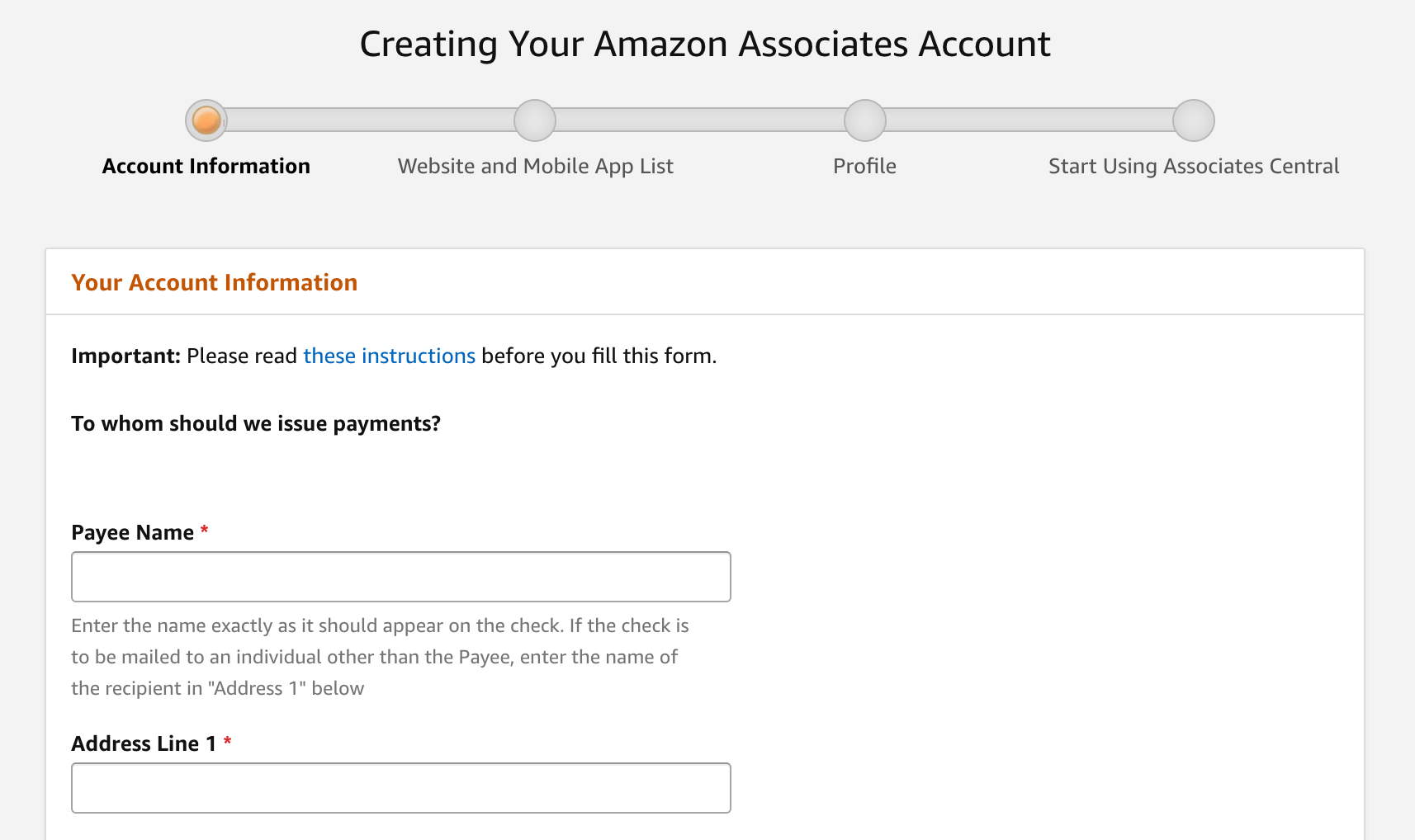 Account Information
Enter the information of the person who will register your account.
Because it is the information of the reward recipient, enter your own information correctly.
If you live in Japan, select "+81" for your phone number.
Websites and Mobile App List
Register a web page to post the affiliate of the product.
We're sure it doesn't contain content for under-13s.
If it does not, select NO.
Profile
Enter the profile of the account you're creating.
The ID will be the desired ID of the account.
Usually, the ending of the desired ID is numbered.
I will fill in the description of my site.
That's all there is to creating an account.
Enter your Payment and Tax Information
Since there is a link above at the bottom of the creation completion screen, enter the payment information.
STEP3 Registration of payment information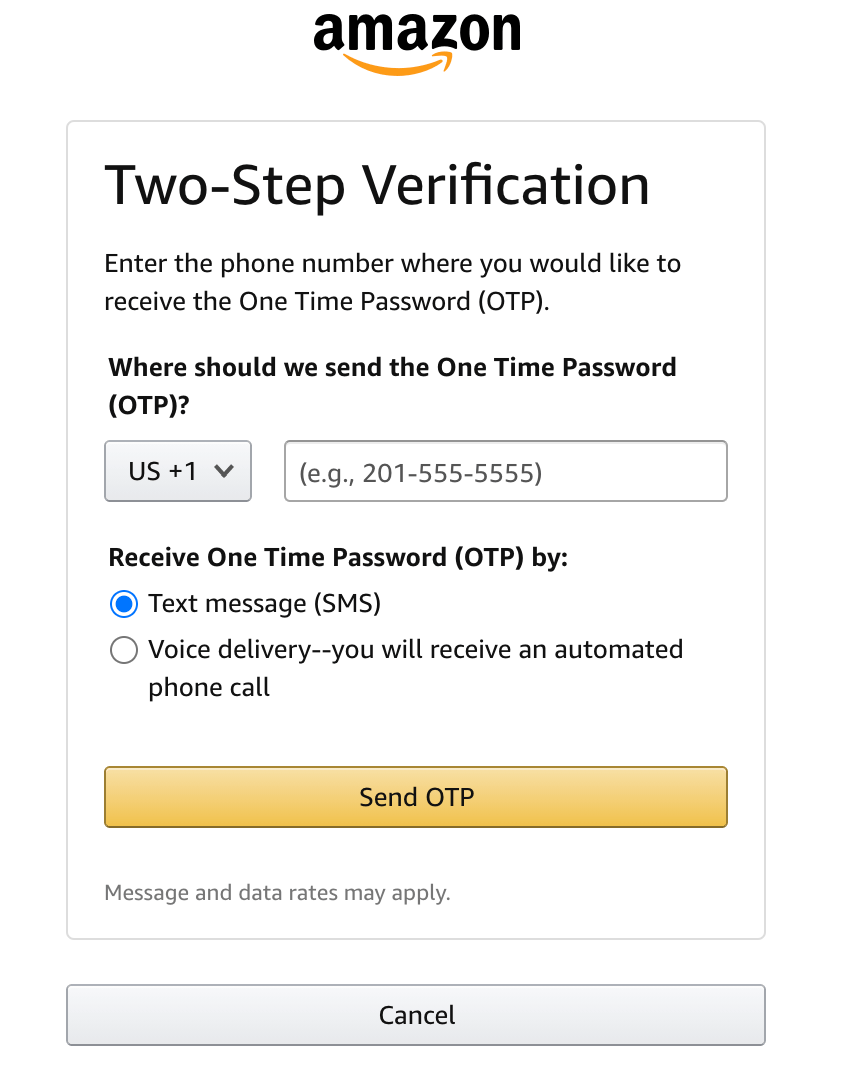 We will continue to register your payment information.
I think you'll be asked to enter your password again.
At that time, you will be asked to enter a phone call to verify your identity.
In Japan, select "+81" and enter your phone number. I think that SMS is easy if it is a mobile phone.
Specify how you want to receive compensation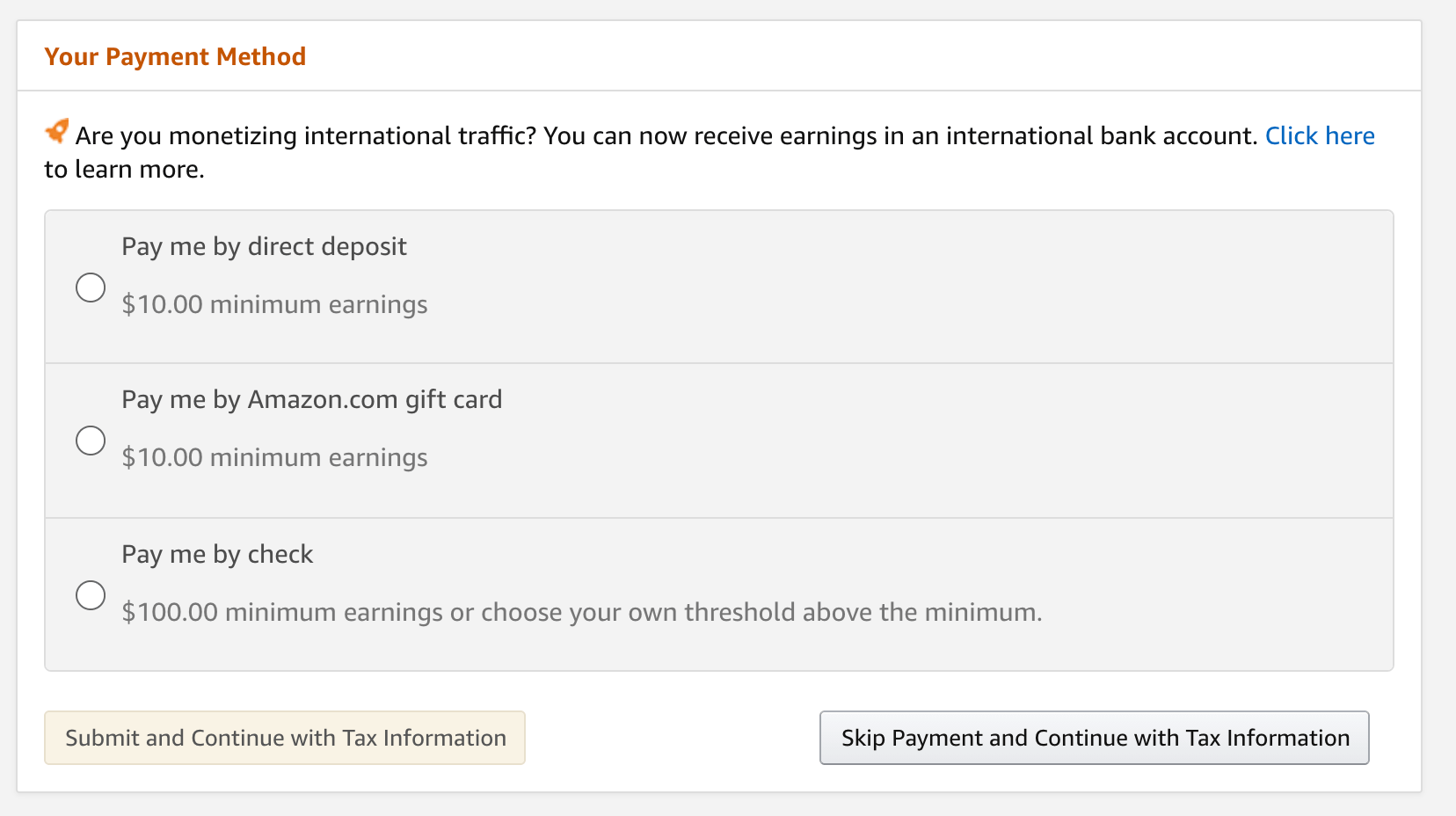 Here, if you receive it in Amazon Points, it will be awarded at the points available on "amazon.com".
It is not available in JP.
Amazon's rewards can now be received on accounts in any country.
If you want to receive it at a Japanese bank, select Pay me by direct deposit.
We will fill in the following items.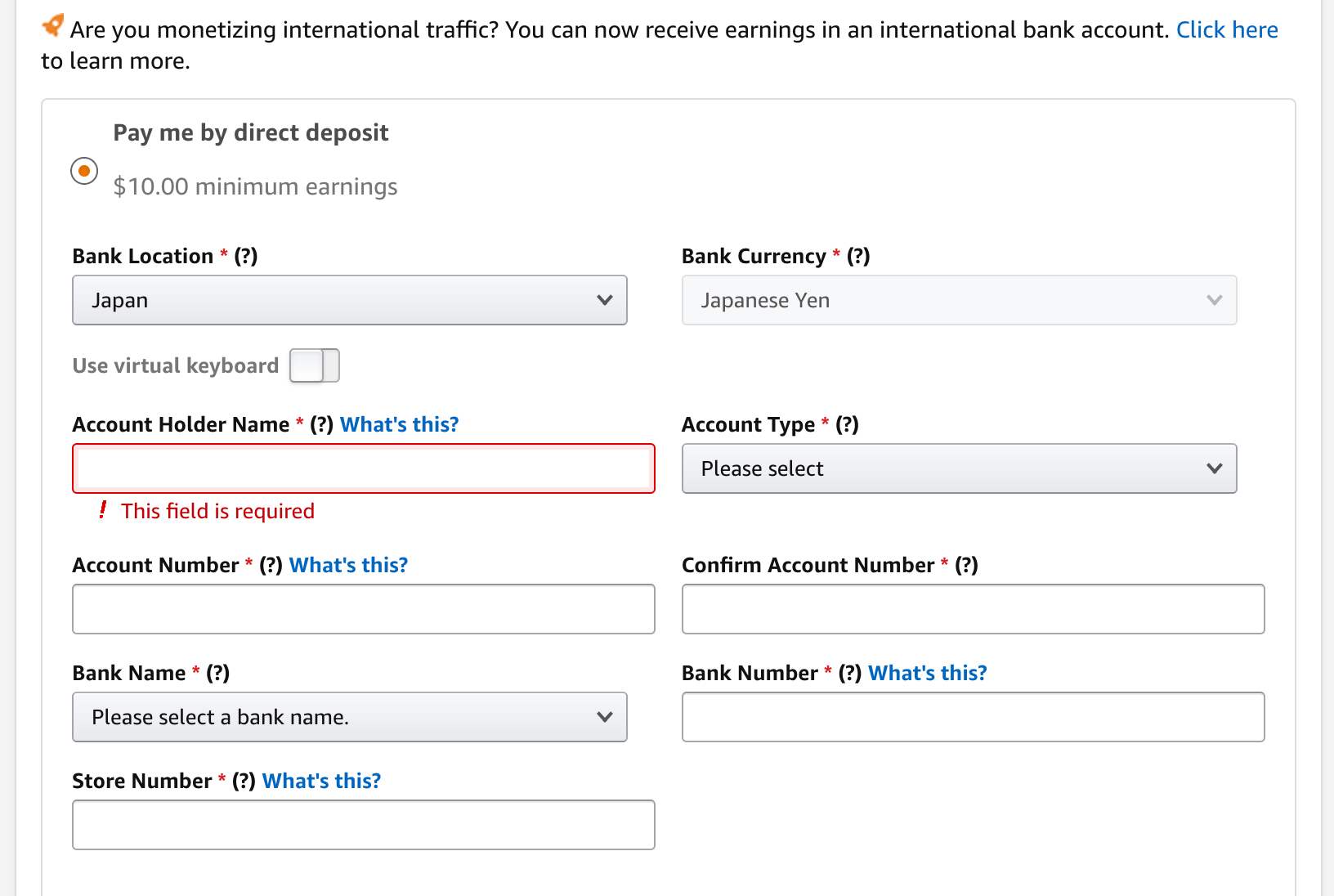 Bank Location

Select Japan

Account Holder Name

Fill in the account name correctly

Account Type

Choose Savings Account or Checking Account

Account Number

Account number

Confirm Account Number

Check your account number

Bank Name

Select Bank Name (Select to enter Bank No)

Store Number

Branch No.
STEP4 Enter tax information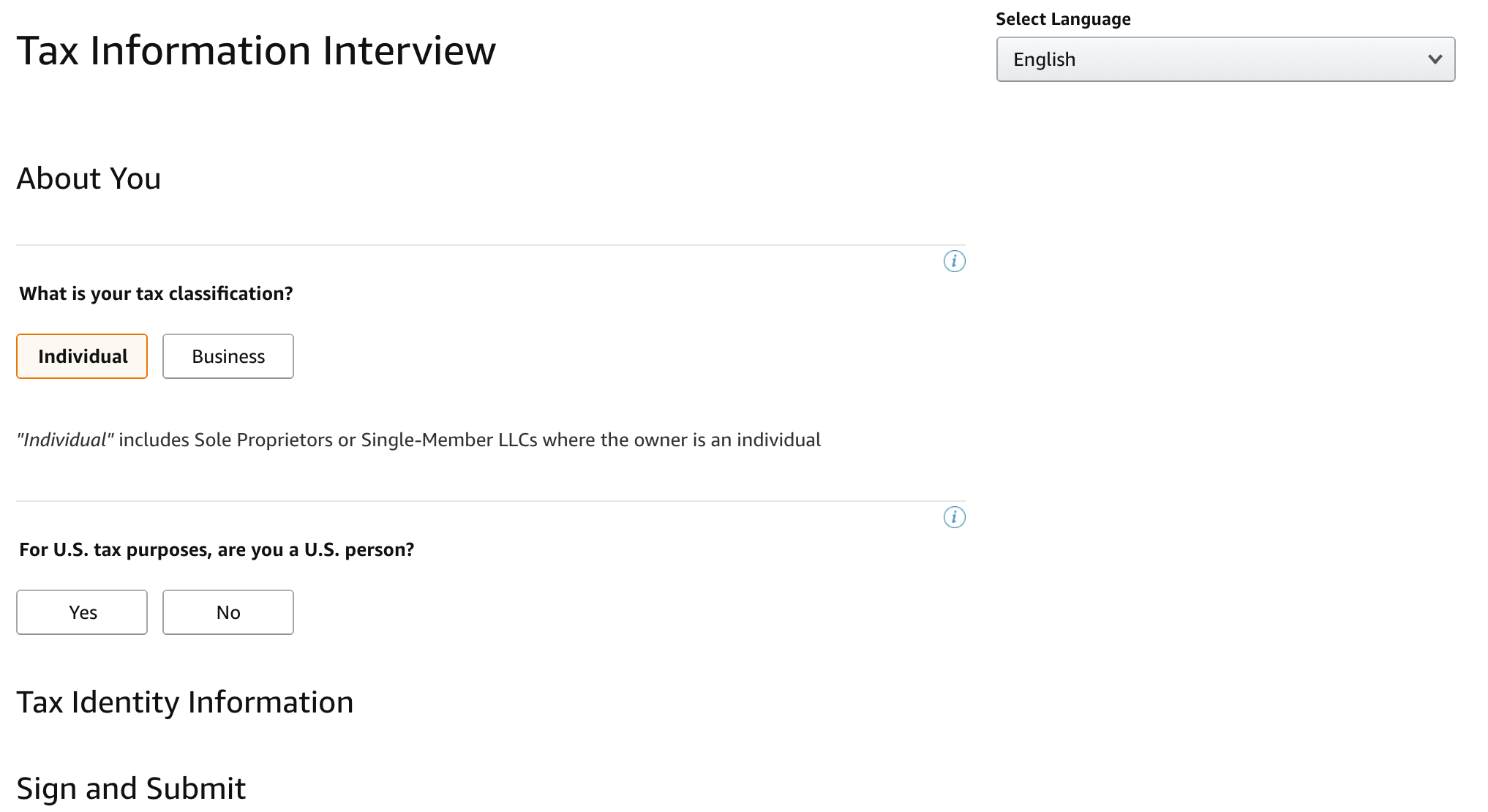 If you select Japan in "select langage" in the upper right corner, it will be in Japanese.
I'm wondering what to put in the TIN number.
This is the number of "my number card". (If you don't have a U.S. TIN)
You are now finished creating an Amazon Associations account in the United States.
It can be used in the same way as japanese ones.